In support of Maui students protesting gun violence in our nation's schools a number of celebrated stars have teamed to perform a Concert for Our Lives at the Maui Arts & Cultural Center on Saturday.
The stellar lineup includes Aerosmith's Steven Tyler, Mick Fleetwood of Fleetwood Mac fame, country music icon Willie Nelson, popular environmental activist/singer/songwriter Jack Johnson, country legend Kris Kristofferson, and surfer/musician Landon McNamara. Maui musicians Willie K and Lily Meola will also perform at the concert which follows the student-organized March for Our Lives at the University of Hawaii Maui College on Saturday. Hawaii's Congresswomen Tulsi Gabbard and Mazie Hirono will speak at the concert and march.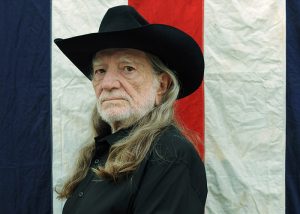 With tickets priced at only $10 and students offered free entry, the historic concert quickly sold out.
World-renowned surfers Paige Alms, Kai Lenny, Albee Layer , and Matt Meola will be on hand to pass out prizes to students who sign the March for Our Lives Maui pledge, which asks student to pledge to stand up for safe schools and to vote when they turn 18.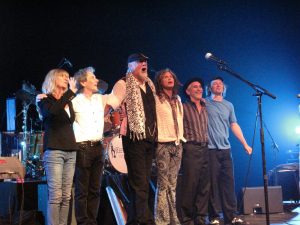 Mick Fleetwood, Steven Tyler & Christine McVie performing at a previous Maui concert
As hundreds of thousands of students and supporters of the March for Our Lives movement are getting ready to gather in Washington D.C. and across the country to demand Congress pass legislation to end gun violence in schools, on Maui, a group of sixteen high school students stepped up to engage our local community on this issue in a way that has attracting major support from high-profile residents, musicians, athletes, and elected representatives.
"Two of my cousins live in Parkland, Florida and witnessed the shooting that claimed 17 lives," reported King Kekaulike High School junior Rachel Zisk. "Their parents were forced to watch helplessly after receiving calls from them while they were still locked inside their classrooms. No child should ever have to fear being shot in school and I knew immediately that I wanted to engage other students here on Maui so we could have a voice here as well."
"We cannot allow one more child to be shot at school," declared the national March for Our Lives mission statement. "We cannot allow one more teacher to make a choice to jump in front of a firing assault rifle to save the lives of students. We cannot allow one more family to wait for a call or text that never comes. Our schools are unsafe. Our children and teachers are dying. We must make it our top priority to save these lives."
There are around 820 March for Our Lives events planned around the world.
Country star Garth Brooks offered his support for the national movement during a Facebook Live concert and conversation with fans. "I believe the young people in this country can change the world," he said. "Just remember when you march, you have a voice and you're representing yourself when you march. "Be patient, be loving. Because there might be some cross voices that enter in this march. Be tolerant, be loving. Do not let hate win."
Broadway starts Ben Platt and Lin-Manuel Miranda have released a single to benefit the march, "Found/Tonight," a mash-up of Hamilton's "The Story of Tonight" and Dear Evan Hansen's "You Will Be Found."
The Maui concert is only one of a handful of similar music events in conjunction with the March for Our Lives protest. Fall Out Boy will headline a concert in Washington, D.C.
Tyler, Fleetwood, Nelson, and Kristofferson all have homes on Maui and are known for supporting local causes. Jackson lives on Oahu.
Jack Johnson with his wife Kim has spearheaded the Kōkua Festivals which benefit the Kōkua Hawai'i Foundation, which supports environmental education in the schools and communities of Hawaii. He last played on Maui for a Kōkua fundraiser in 2012.
Willie Nelson's activism on Maui has included concerts for the local Montessori School, the Maui Dharma Center and the Maui Food Bank. Three-time Grammy winner Kris Kristofferson's recent shows on Maui have benefited the nonprofit Na Keiki O Emalia, and the Lokelani 'Ohana Community.
Rock star Steven Tyler most recently addressed Maui Drug Court graduates. "My hats off to you," he told the graduates. "You're my heroes here today because you have come from somewhere that I lived myself. To come out through the wormhole like you're doing today is a true beyond-belief miracle. I'm so proud of you, each and every one." It was the third time Tyler has spoken at a Maui Drug Court graduation.
Iconic drummer Mick Fleetwood has hosted a number of benefits at his Lahaina restaurant, Fleetwood's on Front St., including for Hospice Maui, local Easter Seals, and to support autism awareness.
The Maui event is being paid in full by the kind support of The Danny Kaye and Sylvia Fine Kaye Foundation, Peter Hagedorn and Miriam Trahan, and Shep Gordon. All ticket proceeds will be donated to organizations that support Maui youth working on a national level to end gun violence in schools.
The Concert for Our Lives is presented at the MACC's A&B Amphitheater on Saturday at 5:30 p.m. Gates open at 4:30.
Leave A Comment