In his exquisite song, "The Beauty of Mauna Kea," revered Hawaiian musician Keola Beamer extols the majesty of this sacred mountain.
"The moon moves around her when she sleeps," he sings. "The clouds stand beside her when she weeps, And I could be forgotten and a thousand miles away, And still I would recall the beauty of Mauna Kea."
Hawaii's largest mountain, Mauna Kea is sacred to Hawaiians. It's regarded as a shrine for worship, as a home to the gods, according to the Office of Hawaiian Affairs. In her online essay "Mauna Kea, Waiau and Sacred Landscapes of our Ancestral Memories,"  Gail Makuakāne-Lundin notes how: "Sacred places held mana or spiritual powers for the Hawaiian people."
"The most revered and respected places were the highest points of lands—mauna or mountains, where nā akua the gods dwelled and where heiau or shrines were erected and consecrated.  For Native Hawaiians, place provided both spiritual and cultural connections. Mauna Kea as the highest portal to the Hawaiian Universe is the pillar of Hawaiian consciousness."
Guided by this knowledge around 1,000 "mountain protectors" journeyed close to the top of Mauna Kea this week to try and prevent the construction of a giant new Thirty Meter Telescope, 18 stories tall, encompassing an area equivalent to 4 football fields, on public land.
Among those arrested this week were Maui's Office of Hawaiian Affairs Trustee Carmen Hulu Lindsey and well known Molokai activist Walter Ritte. "We're losing all of the things that we're responsible for as Hawaiians," Ritte told Hawaii News Now. "We're responsible for our oceans, we're responsible for our land, we're responsible for our future generations."
While touring Japan, Carmen Hulu Lindsey's daughter, acclaimed Maui kumu hula Nāpua Greig posted on Facebook:
"Shame on you Governor David Ige! It is no secret that the TMT has offers to build in other places. It is the greed of the State of Hawaii and the University of Hawaii, it's beneficiary, that is willing to ruin its own people to quench their thirst for money."
"Forever your legacy will be tainted with the arrests of our most beloved kupuna and your lethargic reaction to the false missile alert. Legacy. This means your children, grandchildren and so on will have to live with the shame and pain you are causing.
"You can redeem yourselves by ceasing this nonsense and refuse to further desecrate our mauna and respect the indigenous peoples of this land, the people who truly give life to this land. TMT will be built in the Canary Islands and you can live the rest of your days with some dignity. Because right now, if I were you, I'd never want to be in public again."
According to Hawaii News Now Governor Ige inflamed tensions by claiming protesters were using drugs and alcohol at the site ― a claim they vehemently denied.
On Friday, U.S. Rep. Tulsi Gabbard urged the governor to withdraw his emergency proclamation for Mauna Kea and put construction of the Thirty Meter Telescope on hold.
In a video on Twitter, Gabbard said a "history of broken promises" is what's led to the current standoff at the base of the mountain.
"This is about something much greater than the TMT project — it has to do with longstanding history on Mauna Kea, broken promises, desecration of sacred land and disrespect for native culture. The materialistic way that developers and corporations are viewing Mauna Kea – ignoring the spiritual significance and relationship many Native Hawaiians have with the Mauna — is at the heart of the problem.
"Ua mau ke ea o ka ʻāina i ka pono. The life of the land is perpetuated in righteousness. This shouldn't be just a slogan. It must be our way of life."
Outside of Hawaii, rallies of support have been held in Anchorage and Las Vegas. Democratic presidential candidate Bernie Sanders briefly posted a message of support before it was deleted. "We must guarantee native people's right to self-determination and their right to protest. I stand with Native Hawaiians who are peacefully demonstrating to protect their sacred mountain of Mauna Kea."
For those protecting Mauna Kea, the telescope protest is another chain in the long struggle to maintain Native Hawaiian rights, from the 1893 illegal overthrow of the Hawaiian kingdom, to the continued loss land and water rights, and the increasing development and over-tourism of the islands.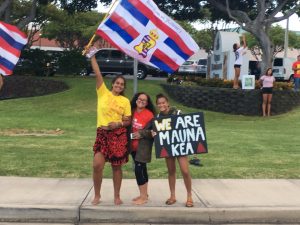 Explaining the checkered history that led up to the current situation former Kauai County Counselor Gary Hooser posted: "Our state government has mismanaged the telescope issue since inception, just as it continues to mismanage public trust natural resources in general – on all islands.
"Too many promises have been broken and too many concessions already have been made. Now the people have risen to say "enough already".
"There are at least 13 other telescopes already on Mauna Kea. The cumulative impact of the new proposal and the existing development equates to a massive industrial complex – all situated on conservation land and a site most sacred to Hawaiians.
"Denying the TMT development will not stop the astronomy. The developers have already indicated publicly they can build the project in Chile or in the Canary Islands where they have already secured permits.
"It is not surprising that people across the island chain, Hawaiian and non-Hawaiian alike, have had enough and consequently have drawn the proverbial line in the sand…on the Mauna. The governor and his security force must stand down."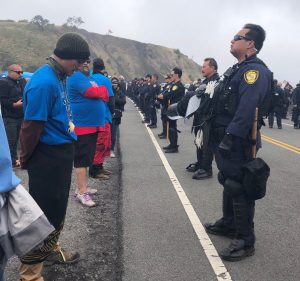 Also on Friday, more than 600 Scientists signed an open letter denouncing the arrest of elders at Mauna Kea.
"We write to express concern about recent events on the Maunakea summit with regards to the construction of the Thirty Meter Telescope (TMT). We call upon the astronomy community to recognize the broader historical context of this conflict, and to denounce the criminalization of the protectors on Maunakea. We urge the TMT collaboration and the government of Hawaiʻi to desist from further arresting or charging protectors.
"We want to echo the work of Indigenous scholars and communities in pointing out how US-based histories of conquest have been exploitative and destructive to Indigenous ways of knowing (science) and being (cosmology) in the continental US and in the Hawaiian context. These histories progressed in lock-step with the development of western "sciences" of personhood: of who and/or what is human, and therefore who must be subhuman, and thus must be subject to control via mechanisms of policing, incarceration, and military violence.
As Hawaiian scientist Aurora Kagawa-Viviani writes, "To me, practices of science in its present form smell a lot like the American Manifest Destiny associated with terrible loss for so many indigenous communities."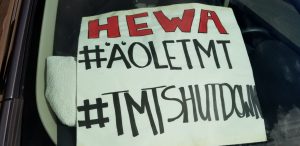 Leave A Comment