Due to the diligent perseverance of a group of female environmentalists back in the 1920s, Hawaii's beautiful landscape has remained free of the blight of endless roadside billboards. But come election time local neighborhoods become blanketed with prominent signs by competing political candidates.
This "sign wars" as it's become known was highlighted by Maui mayoral candidate Elle Cochran in a recent letter to The Maui News. "While I recognize campaign signs play an important part in gaining name recognition in any campaign, they are also considered unpleasant by many in the community when they are littered all over our beautiful islands," Cochran wrote.
"Signs do very little to convey messages about what a candidate actually stands for and are made of plastic, which will eventually end up in the landfill," she continued.
Besides the eyesore aspect, Cochran drew attention to their expense, which favors candidates funded by big business/land developers. "Our last order of 200 signs cost $4,500 plus shipping. That's a lot of money, considering we are a campaign of mostly smaller donations from people, not corporations or lobbyists."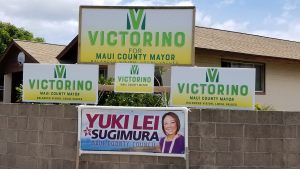 Who needs one sign when you can plaster a wall with four
Hawai'i law allows: Signs urging voters to vote for or against any person or issue, may be erected, maintained, and used, except where contrary to or prohibited by law. The law prohibits the placement of any political sign on any public property, including median strips, sidewalks, fences, and rights of way. HRS §264-72 specifies that temporary signage may not be placed "outside the right-of-way boundary and visible from the main-traveled way of any federal-aid or state highway."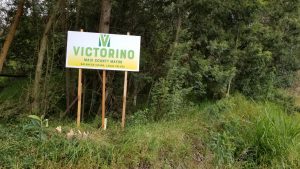 An illegal sign facing State Highway 377 in Kula
"They're an eyesore in the community, in many neighborhoods, people have taken the attitude that if one sign is good, 15 signs is better," Bob Loy with The Outdoor Circle, told Hawaii News Now.
A state law limiting the use of signs on private property to 45 days before and 10 days after election day was nullified in the early 1990s by a U.S. Supreme Court ruling because it infringed on residents' and private business owners' rights to free speech.
In 2008, a campaign sign reform bill was defeated which would have placed reasonable restrictions on the size and number of signs posted on residential property.
The Department of Transportation typically removes hundreds of unpermitted campaign signs from state roads. Officials report the problem is statewide.
In 2016, Republican Angela Aulani Ka'aihue, who ran against U.S. Rep. Tulsi Gabbard, upset Oahu residents after posting signs declaring that she's "healthy and cancer free." She had previously said she was running for the seat occupied by U.S. Rep. Mark Takai, who did not seek re-election because he was battling pancreatic cancer. "It's beyond tone deaf," reported Hawaii Republican Party Chairman Fritz Rohlfing.
So are these campaign signs actually effective?
A study published in Electoral Studies in March 2016 – "The Effect of Lawn Signs on Vote Outcomes: Results from Four Randomized Field Experiments" – found lawn signs raise vote shares, on average, just a touch more than 1 percentage point.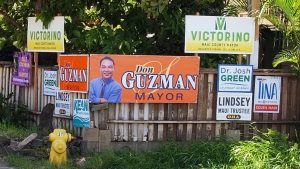 While we can't avoid the deluge of campaign signs, we can be thankful that a group of concerned citizens led a protest movement to ban billboards in the state.
In the early 1900s billboards proliferated throughout the islands, particularly on O'ahu.
Vowing to "keep Hawaii clean, green and beautiful," a group of seven prominent female Honolulu residents formed The Outdoor Circle (TOC) in 1912, with a mission to plant trees and ban billboards.
Organizing an effective consumer boycott, when they shopped at a store, they left a note: "I will not buy anything advertised on billboards as long as I can find a substitute, or a last resort, go without." The women convinced people to not shop at stores or buy products that used billboard advertising. In 1914, after they wrote to the producer of Old Dutch Cleanser, it removed billboards in Hawai'i.
"We ladies of Honolulu have convinces our local dealers that it does not pay them to advertise on billboards," they wrote to the Chicago company (published in The Hawaiian Gazette). "We absolutely refuse to buy anything so advertised."
The campaign was so successful other companies followed suit. By 1926, the TOC bought the Honolulu Poster Service, the state's last billboard company, and tore down all the billboards on Oahu. A year later the Territorial Legislature passed a law banning billboards in the islands.
It took decades before another state enacted similar legislation, with Vermont in 1968, followed by Maine in the early 1980s, and Alaska by state referendum in 1998.
Maui's primary election: August 11, 2018
General Election: November 6, 2018
Leave A Comment