Some pessimists predict dark times ahead for Maui, a future of more hotels, pesticide-drenched agribusiness, urban sprawl, shopping malls, and the billowing dust of endless construction.
But many Maui folks are standing up, like never before, for a brighter future through collective community action.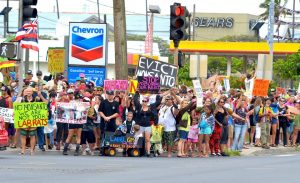 We, working island residents sometimes forget to raise our heads from our busy work. Whether we're a farmer fighting for water rights, a student aiming high for straight A's, a lawyer rebutting pesticide companies' claims, a parent and child painting signs for an environmental rally, or a political leader actually earning votes through grassroots advocacy, we're making progress—and it's growing.
Doubters, haters, and whiners best pay attention.
Last year, activist travel throughout Hawai'i broke inter-island mileage records. Residents ignored geographic obstacles and rallied together, often travelling to other islands to meet officials and fellow earth and water protectors.
We, the people of Hawai'i, were undeterred by the rigged game of last-minute hearings, short-notice commission meetings, and old guard backroom political deal-making. Advocates for safe agriculture are at the forefront of our struggle, working tirelessly every day, doing all that needs to be done.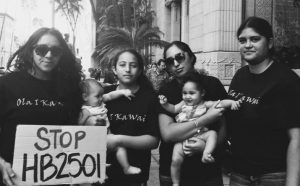 Maui's agriculture activists are ahupua'a oriented (watershed boundaries stretching from the mountain to the sea). Home rule values are clearly interpreted. These healthy cooperation-accelerators are detailed organizers and use social media well.
Environmental efforts by organization leaders and some government officials are, and have been, complemented by agriculture activists who have choreographed powerful and successful actions. These agitators are scale blind and their new weight class is 36,000 acres (the size of A&B's vacant sugar plantations).
On October 15, at their 6th annual convention in Hilo, the once-conservative Hawai'i Farmers Union United (HFUU) was catapulted onto a progressive path. The 10-chapter organization broke with the past and passed a pesticide-use policy supporting transitional* farmers that value the safety of our soil and water over the short-term profits of conventional agribusiness (conventional farmers transitioning to natural farming practices).
The Haleakala chapter of the HFUU, led by Simon Russell, fueled a fiery floor debate that resulted in historic earth-friendly revisions to the organization's Policy Statement. The policy meeting went into to over time and passionate member exchanges prompted several "call to order", protocol to end debate and call for vote. The proceedings presented before the National Farmers Union President and convention parliamentarian Roger Johnson, demanded diplomacy in its finest course. The ultimate vision —and the votes— were strongly represented for a more sustainable farming future.

Equal in notability is the education and awareness plans of HFUU Kaua'i Chapterʻs newly ordained Sustainable Agriculture Committee (SAC). This committee was introduced by Don Heacock, who was recently featured in Maui Film Festival's "'Aina, That Which Feeds Us." The Kaua'i Chapter has consistently  contributed to state policy considerations and the inception of this committee is a respected one.
Touring educational displays sponsored by SAC feature sustainable agriculture criteria: economic profits; environmental profits; and social and cultural profits. With all three Maui HFUU chapters creating their respective Sustainable Ag Committees, these professional commitments prove that Maui is on path to healthy agriculture.
Access to leaders with scientific and cultural knowledge, and related best practices, will help Jerrod Schreck steer A&B's Land Stewardship & Renewable Energy Development.  While Mr. Schrek was unable to attend the convention, he is discussing with the broader team to see who might be appropriate to participate in the Sustainable Ag Committee.
A&B's vision for diversified ag is creating a patchwork of smaller farms on the 36,000 acres on Maui by farming some of the land on their own, partnering with others, and leasing land to other farmers. Schreck, along with farmers and active citizens, can move Maui to a natural agricultural world model with argumentative authority.
Maui's agriculture future is a shared responsibility. Stewards are taking part in agricultural aspects of their community. They are holding elected officials accountable, performing community give-back, leading by agro-tourism example, and most importantly helping to flip dismal voter turnout. We have what it takes.
Maui no ka oi; Maui is the best.
Leave A Comment